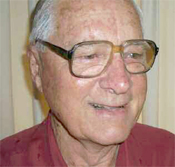 Merv Blanch
Sydney Video Makers Club was founded in 1991, here two lifetime members recount their experience of the early days of the club.
Midwinter in 1991, an expatriate Englishman John Weaver, then living in Sydney, decided that he should try to contact other frustrated 8mm film makers to see if he could entice them into forming a videomakers' club to help one another explore the burgeoning interest in electronic imaging.
He put a small advertisement in a local newspaper suggesting that interested participants meet with him and - huddled in a doorway against the winter cold one evening - six potential members met John as he opened the door of his office in suburban Chatswood in northern Sydney. Gathered around a table in his small office, it soon became apparent that they were all keen 8mm and 16mm cine enthusiasts, many of whom had also switched to video in the mid-eighties when film stock had become really expensive and when emerging video cameras were starting to offer better prospects of an easily synchronised image and sound without the frustrating wait for the processing of film and the problems of adding sound. Of course, all loudly agreed that image quality using video was much poorer than latest film stock offered but - the future beckoned!!
Half of the group had come from 8mm film making in Britain and the rest, Australian-born, had long been keen members of the now-defunct Australian Amateur Cine Society. So, with lots of skills to share, an all-inclusive management committee was formed and John Weaver revealed that he had already negotiated with Chatswood Dougherty Centre to make for them a video of their Meals on Wheels operation in exchange for the monthly use of their hall for the planned Northside Camcorder Club meetings!!

Once the new committee had recovered their composure over such a daunting commitment, they settled down to get on with it - but it still took twelve months to keep NCC's side of the agreement! Fortunately, the Meals on Wheels video was a great success and, sixteen years later, a very much larger Northside Camcorder Club still meets at the Dougherty Centre, but now in their large and very prestigious main Auditorium!

From early days, beginning with a dozen or so members bringing their VCRs and a club-owned monitor to the hall each meeting night to see one another's work and to discuss and solve problems, NCC swiftly grew in membership as the word got around Sydney that this great group of keen people were offering so much help to new video enthusiasts.

Greater Sydney is huge geographically - about 200km from north to south, the Pacific Ocean at its eastern edge and the Blue Mountains about 80km to its west - but NCC soon had members travelling up to 300km each meeting night to enjoy all it had to offer them! This set a huge challenge for the NCC committee - it had to make sure that it really satisfied the hunger of the video enthusiast coming so far to learn something really worthwhile from each meeting night.

A long time member of the UK's Altrincham Movie Club, Ted Northover - a foundation member of NCC but, sadly, recently deceased - threw a spanner in the works early in the piece when he proposed that NCC begin small competitions of three minute productions on a nominated topic to hone our skills. Two members resigned - they saw this as being divisive after having unhappy memories of their past movie clubs!! But, very soon, a philosophy of keen but very friendly competition became a key factor in rapidly improving video competency within NCC and, when an excellent co-operative video "Steam Up" made by club members sold eighty copies to model train enthusiasts for funds to buy much-needed equipment for NCC, member enthusiasm boomed and membership soared rapidly!

Each new President brought innovative ideas, many pro and near-pro members came to join NCC, many members began to win national and international awards with their cutting-edge skills and NCC's acclaimed and keenly fought VOTY (video of the year) in-club competition each November really extended the skills of each entrant to achieve individual excellence but without in any way impeding the outstanding camaraderie which has always existed within NCC. Other than bit of PC versus Mac rivalry these days, a truly magnificent spirit of friendly co-operation and helpfulness has existed since day one, being one of the factors which attracted so many new members. At one point though, NCC's big concern was that the club may become too large, with membership exceeding 150 at one stage! To counter this problem, several sub groups operating under the NCC umbrella to cater for specific interests have created even greater club enthusiasm. Of these, perhaps the capture and editing of HD video is the most challenging topic confronting one specific sub group right now! As each new technology arrives, NCC confidently confronts it and members work hard to master the challenges it presents - wonderful to see it all happen - and the smiles on the faces of those who succeed says it all!

Each year more NCC members win international acclaim with major awards at highly regarded video fests such as Lee Prescott's great Cotswold International and IAC's BIAFF. This is very important for NCC, being located at the antipodes and it being difficult and expensive for members to easily make the long haul to Europe and North America to mix in person with their contemporaries. Their videos shown to their peers in England and beyond allow NCC members to feel that they really are part of the world video scene and that, maybe, they also contribute something of value to fellow video makers in other climes and they gain the same in return when they see what others are doing.

Good for both of us! Long may it continue!